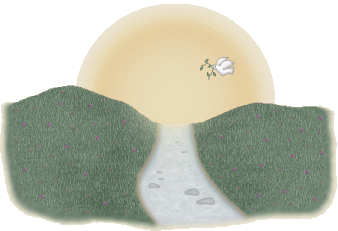 Purity ~ Abundant Life ~ Eternal Life
Excerpted from The Complete Multimedia Bible based on the King James Version.
Copyright (c) 1994 Compton's New Media, Inc.
It is really easy to use and you can look up words and it gives you notes on that subject,
this is what I wanted to share with other people.
ABUNDANT LIFE
John 10:10
The thief cometh not, but for to steal, and to kill, and to destroy:
I am come that they might have life, and that they might have [it] more abundantly.
John 15:1-8
I am the true vine, and my Father is the husbandman. Every branch in me that beareth not fruit he taketh away:
and every [branch] that beareth fruit, he purgeth it, that it may bring forth more fruit.
Now ye are clean through the word which I have spoken unto you. Abide in me, and I in you.
As the branch cannot bear fruit of itself, except it abide in the vine; no more can ye, except ye abide in me.
I am the vine, ye [are] the branches: He that abideth in me, and I in him, the same bringeth forth much fruit:
for without me ye can do nothing. If a man abide not in me, he is cast forth as a branch, and is withered;
and men gather them, and cast [them] into the fire, and they are burned. If ye abide in me, and my words abide in you,
ye shall ask what ye will, and it shall be done unto you. Herein is my Father glorified,
that ye bear much fruit; so shall ye be my disciples.
Proverbs 5:18
Let thy fountain be blessed: and rejoice with the wife of thy youth.
PURITY

Acts 10:15
And the voice [spoke] unto him again the second time, What God hath cleansed, [that] call not thou common.

Acts 22:16
And now why tarriest thou? arise, and be baptized, and wash away thy sins, calling on the name of the Lord.
Daniel 12:10
Many shall be purified, and made white, and tried; but the wicked shall do wickedly:
and none of the wicked shall understand; but the wise shall understand.
Ephesians 5:25-27
Husbands, love your wives, even as Christ also loved the church, and gave himself for it;
That he might sanctify and cleanse it with the washing of water by the word,
That he might present it to himself a glorious church, not having spot, or wrinkle,
or any such thing; but that it should be holy and without blemish.
James 4:8
Draw nigh to God, and he will draw nigh to you. Cleanse [your] hands,
[ye] sinners; and purify [your] hearts, [ye] double minded.
I John 3:3
And every man that hath this hope in him purifieth himself, even as he is pure.
Leviticus 20:7
Sanctify yourselves therefore, and be ye holy: for I [am] the LORD your God.
Matthew 5:27-32
Ye have heard that it was said by them of old time, Thou shalt not commit adultery:
But I say unto you, That whosoever looketh on a woman to lust after her hath committed adultery with her already in his heart.
And if thy right eye offend thee, pluck it out, and cast [it] from thee: for it is profitable for thee that one of thy members should perish, and not [that] thy whole body should be cast into hell. And if thy right hand offend thee, cut it off,
and cast [it] from thee: for it is profitable for thee that one of thy members should perish,
and not [that] thy whole body should be cast into hell. It hath been said, Whosoever shall put away his wife, let him give her a writing of divorcement: But I say unto you, That whosoever shall put away his wife, saving for the cause of fornication, causeth her to commit adultery: and whosoever shall marry her that is divorced committeth adultery.
I Peter 1:22
Seeing ye have purified your souls in obeying the truth through the Spirit unto unfeigned love
of the brethren, [see that ye] love one another with a pure heart fervently.
Psalms 65:3
Iniquities prevail against me: [as for] our transgressions, thou shalt purge them away.
Psalms 119:9
Wherewithal shall a young man cleanse his way? by taking heed [thereto] according to thy word.
I Timothy 5:22
Lay hands suddenly on no man, neither be partaker of other men's sins: keep thyself pure.
II Timothy 2:22
Flee also youthful lusts: but follow righteousness, faith, charity, peace,
with them that call on the Lord out of a pure heart.

ETERNAL LIFE


I Corinthians 15:24-28
Then [cometh] the end, when he shall have delivered up the kingdom to God, even the Father;
when he shall have put down all rule and all authority and power. For he must reign,
till he hath put all enemies under his feet. The last enemy [that] shall be destroyed [is] death.
For he hath put all things under his feet. But when he saith all things are put under [him, it is] manifest that he is excepted, which did put all things under him. And when all things shall be subdued unto him, then shall the Son also himself be subject unto him that put all things under him, that God may be all in all.
Ecclesiastes 12:7
Then shall the dust return to the earth as it was:
and the spirit shall return unto God who gave it.
John 1:4
In him was life; and the life was the light of men.
John 3:16
For God so loved the world, that he gave his only begotten Son,
that whosoever believeth in him should not perish, but have everlasting life.
John 3:36
He that believeth on the Son hath everlasting life: and he that believeth not the Son shall not see life; but the wrath of God abideth on him.
John 5:24
Verily, verily, I say unto you, He that heareth my word, and believeth on him that sent me,
hath everlasting life, and shall not come into condemnation; but is passed from death unto life.
John 10:10
The thief cometh not, but for to steal, and to kill, and to destroy:
I am come that they might have life, and that they might have [it] more abundantly.
John 17:3
And this is life eternal, that they might know thee the only true God,
and Jesus Christ, whom thou hast sent.
Luke 10:25-28
And, behold, a certain lawyer stood up, and tempted him, saying, Master, what shall I do to inherit eternal life? He said unto him, What is written in the law? how readest thou?
And he answering said, Thou shalt love the Lord thy God with all thy heart,
and with all thy soul, and with all thy strength, and with all thy mind; and thy neighbour as thyself. And he said unto him, Thou hast answered right: this do, and thou shalt live.
Mark 10:28-30
Then Peter began to say unto him, Lo, we have left all, and have followed thee.
And Jesus answered and said, Verily I say unto you, There is no man that hath left house,
or brethren, or sisters, or father, or mother, or wife, or children, or lands, for my sake,
and the gospel's, But he shall receive an hundredfold now in this time,
houses, and brethren, and sisters, and mothers, and children, and lands,
with persecutions; and in the world to come eternal life.
Romans 6:23
For the wages of sin [is] death; but the gift of God [is] eternal life through
Jesus Christ our Lord.
Titus 3:7
That being justified by his grace, we should be made heirs according to the hope of eternal life.





A new page I made The Lost Books
Another new one The Feast Days
Another one The End Times
Another New Page The Ten Lost Tribes

abundant life - anger anxiety - atheism and death beatitudes - biblical facts Biblefacts 2 - Biblefacts3
cancer - charity covenants - deceit depression - discouraged, doubting - faith forgiveness - fornication
garden - gifts of God grace - hate heaven - hope inspirational - joy love - names of Jesus
pain and sickness - parables peace - praise prayers - pride rules and righteousness - sin
sorrow and suffering - tongue truth - warfare weary - worldliness worry




I am a Christian who believes in Jesus Christ being the only way to heaven and to get there you have to give your life to God and ask Jesus into your heart and ask Gods forgiveness for all the things you have done wrong in your life. Please give your life to God and enjoy eternity in Heaven.

Celebrate Jesus
Something my Church does. Click on the link to find out how we do this.